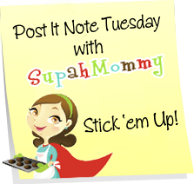 Check out more
Post-It Note Tuesday
posts over at
SupahMommys
.
It is the funnest and most colorful meme in the blogosphere!
The Little One has been quite imaginative lately … turning almost anything he sees into something to play with. It occurs to me that perhaps I no longer need to spend money on toys when apparently there are toys just sitting all around for free! Here are some the latest additions to the Little One's toy chest (with a brief translation for those of us who don't have
quite
as much imagination in us).
The only real drawback of these newfound toys is that they could potentially harbor little bugs!
Preparing for the collapse of the Lego Corporation once we pull our toy dollars,